PROTECH have many different Sound Systems in stock to match the needs of your events. This can be anywhere from a football pitch to a village hall in scale. We can supply fully installed and crewed sound systems for large festivals to one night dry hires for parties.
Below are a few examples of some of our systems. These include Martin Audio, Funktion One and Turbosound. We also have 100V Line systems in stock for public address systems. If there is something in particular that you are looking for please contact us.
More examples of what PROTECH can offer in the way of Sound can be found here. DJ Equipment can be found here.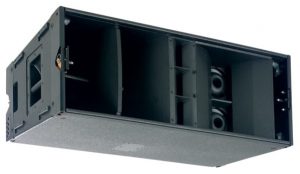 Martin Audio W8LC
Our new Martin Audio W8LC Line Array System brings superb next-generation line array performance to concert, theatre and commercial events. It is versatile and scalable and can be used for a wide range of applications of live sound. The W8LC is suitable for medium to large scale touring, theatre and stadia.
16 x Martin Audio W8LM & 6 x WS218X
"16 x Martin Audio W8LM & 6 x WS218X per side. This is our largest W8LM system, 32 x boxes of line array packs a massive punch and throws the sound an impressive distance"
12 x Martin Audio W8LM & 4 x WS218X per side
"12 x Martin Audio W8LM & 4 x WS218X per side. This is great for a medium sized festival's main stage. Hung from our Milos MRT1 Towers this length of array sounds fantastic"
8 x Martin Audio W8LM & 3 x WS218X per side
"8 x Martin Audio W8LM & 3 x WS218X per side. When space is tight and there isn't enough room for stand-alone Line Array Towers we can add PA wings to our roof structures"
6 x Martin Audio W8LM & 3 x WS218X per side
"6 x Martin Audio W8LM & 3 x WS218X per side. This Ground Stack System speeds up the installation process and is a perfect solution for medium sized festivals which have to think about offsite noise constraints and want to give the audience a great sound"
4 x Martin Audio W8LM & 3 x Funktion One F118 per side
"4 x Martin Audio W8LM & 3 x Funktion One F118 per side. For events where clarity is more important than volume we can offer this small form ground stack system "
1 x Martin Audio W8LM, 1 x Martin Audio W8LMD & 1 x WS218X per side
"1 x Martin Audio W8LM, 1 x Martin Audio W8LMD & 1 x WS218X per side.
This system is perfect to be used as side fills in large conference rooms to compliment the main sound system. It can also be used as a standalone sound system for slightly less demanding volume situations such as awards ceremonies which still require perfect clarity."
Funktion One Res1
"Funktion One Res1. Another small and versatile speaker the Res1 can be used for many different applications. Here we used it to cover a long but not too deep crowd of people for a fireworks display using 4 single stands of Res1"
Funktion One Res1 and 3x Funktion One F118 per side
"Funktion One Res1 and 3x Funktion One F118 per side. There are many different combinations possible when pairing up the Res1 and subs depending on the sound you require – from 1x Res1 on a pole atop 1x F118 all the way to 3x Res1 sitting on 3x F218."
Funktion One Res2 and 3x Funktion One F118 per corner
"Funktion One Res2 and 3x Funktion One F118 per corner. If you require a bit more punch from a bigger box we can offer various Res2 Sound Systems."