If you need a raised platform for your event we can supply the size you need – from an 8'x2' for a DJ Stand or half a sports hall worth of 8'x4'.
We offer staging as a dry hire, simply turn up in your van and collect what you need. Don't have a van? – We also offer a delivery service where we can drop the staging to your venue for you to build. Not too keen on moving heavy staging platforms around and want to sit back whilst someone else does the work? – We offer a complete delivery and installation service, just let us know the size of platform you need and leave the rest to us. The standard size for modular staging is the LiteDeck 8'x4'. We also have 8'x2' LiteDeck, 4'x4' LiteDeck and 4'x2' LiteDeck in stock.
More examples of what PROTECH can offer in the way of Staging can be found here.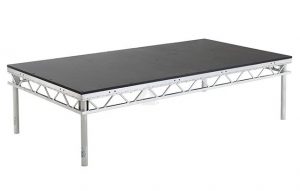 LiteDeck Staging Platforms
Renowned for enduring performance and smart aesthetic design, LiteDeck is the most popular decking system in the demanding world of touring productions. Tried and tested around the world, it is a lightweight yet robust staging solution with a proven record of reliable performance.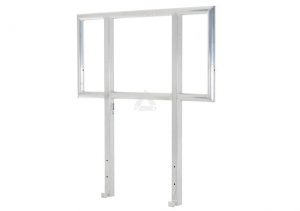 LiteDeck Handrail
Handrails are essential for creating safe and useable working platforms. These handrails are designed to bolt, quickly and securely, to specific mounting points located on the side of each deck.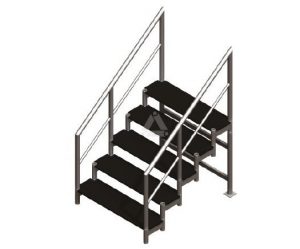 LiteDeck Stairs
This flexible and adjustable stair system for the LiteDeck stage can be extended in incremental steps, offering step configurations and solutions for all types of applications.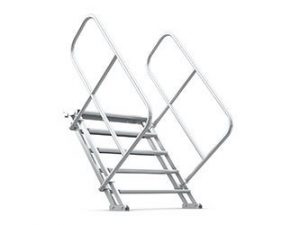 Milos X Stairs
Designed for use with stage heights of between 600mm and 1000mm these are quick to setup and easy to transport.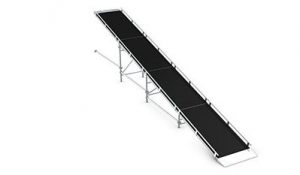 PROTECH Stage Access Ramp
We can supply a stage access ramp or viewing platform ramp for the height of your platform. With a gradient of 1:8 we have ramps available for platforms between 1' and 4' in height.