Although not a dry hire item, PROTECH are happy to hire out our Structures to other Events Companies, we can even come and work for your company for the day to build the structure leaving you to deal with your client and concentrate on other areas of the event.
More examples of what PROTECH can offer in the way of Truss Structures can be found here.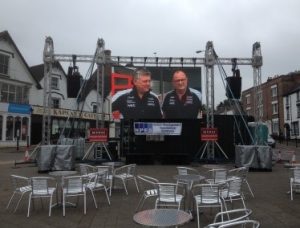 We can supply a complete Audio Visual Solution with our own LED Screen and Line Array Speakers being flown from the same structure. This structure utilises 4 Milos MT1 Towers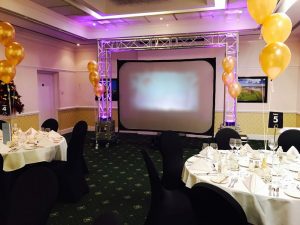 If you have a room and need a projector screen but have nowhere to hang it, this is the perfect solution. Great to wheel out for that embarrassing wedding video or a special Birthday slideshow. Our 6'x4' Screen is shown here, we can also provide a mobile truss mounting frame for a 12'x9' Projector Screen.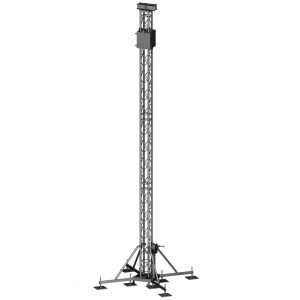 The Milos MT1 is ideal for rigging in the entertainment industry. Using the winch system means truss spans, LED TV Screen, Line Array and lights can be pre-rigged safely at ground level then hoisted upto 7.5 metres into the air.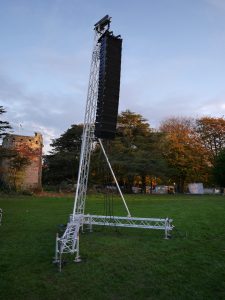 The Milos MRT1 is a stand-alone tower, which is ideal for hanging line array at festivals. Standing 8 metres tall with a line of speakers attached, it looks impressive too.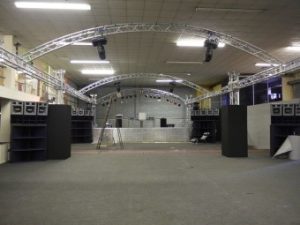 Milos Arc ground support. With no rigging points available to us, we built this large ground support structure using 8m arcs and 6 Milos MT1 Towers.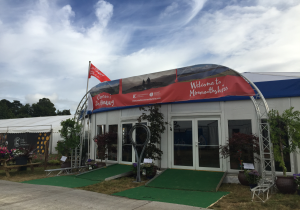 With many different arcs, junctions and hundreds of metres of Milos truss in stock we can build dozens of different structures.